Let the Breeze Blow
One day on their way home, Carolyn spotted a poor dog, limping across the highway and insisted to her parents to carry it to the hospital for immediate medication. They ended up adopting the dog after her constant pleas. Her parents, Fred and Stacey Collides took care of the dog which she named Brandy after a song while she's away during weekdays working as a waitress.
Where to buy Let the Breeze Blow?
Let the Breeze Blow is available at the following book stores:
Amazon
Barnes & Noble
Author House
Book Reviews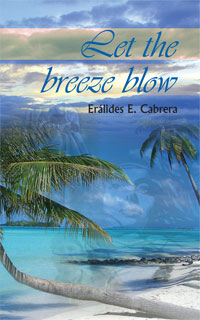 Miami, Florida—Carlos Garcia has found refuge in the Unites States as an immigrant since he was just a teenager. Now an established businessman with three supermarkets that are doing well after 43 years of being away from his native land, he finds himself facing a sensitive issue with his family. His seventeen-year old daughter, Alicia who happens to be a no nonsense teenager is resolute to go for a visit to Cuba, where both her parents were born. A trip to Cuba is all she has been yearning for ever since she was a kid. Now with just six months before her eighteenth birthday, Alicia becomes even more determined to get what she wants no matter how gravely his father feels. Lucia, Carlo's wife who happens to be a Cuban immigrant too when she was just a kid, is torn between pleasing her only daughter and respecting her husband's disapproval due to a bitter past relative to Castro.
Carlos has a good friend named Francisco Peña, an old retired Cuban man who introduces him to a broker, Jose Cardona while they are in La Carreta, a local Cuban restaurant where they frequently drink coffee. Upon knowing his friend's problem, the old man Peña persuades Carlos to allow his wife and daughter to push through the Cuban trip. So, Carlos seeks Cardona's expertise in arranging his family's trip, even though he can sense that Cardona uses illicit method to facilitate his operations. Cardona does everything that is necessary to fly his family Cuba after an arranged short trip to Mexico, which at that time is experiencing smuggling and drug tribulations on its frontier.
Never in his wildest dream that it would turn out as a nightmare for his two precious women. Lucia and Alicia are abducted from the airport in Mexico City by a hoodlum with his accomplices who pretend to be connected to Corporal, the company Cardona owns. The abductors called Carlos up and demanded for one million dollars to be deposited in five bank accounts.
Carlos needs to pull over when police officers stopped him when he is at the shoulder of the road answering the phone call. Because of the officer's interference, Carlos is brought to the police station to talk to a federal agent named Steve Hartzman who can handle the case.
With the help of two agents with Peña by his side, they monitored the location of the hoodlums. On the other hand, Lucia and Alicia get through a lot of hardships. With her knowledge in using guns, Lucia is able to get rid of the three hooligans who seem to appear unprofessional. She and her daughter manage to get away using the blazer owned by the villains that still has three quarters of gas. They encounter another set of hoodlums along the way, but Lucia is able to shoot them all off, taking cash, water and weapons with them. The two settle in a small hotel named La Cantina in Rio Grande.
Carlos decides to take the matter in his hand, considering the minimal help that the federal government can do since the kidnapping happens in a foreign country that is way their jurisdiction. Provoked by Carlo's recklessness and a call for integrity, Agent Steve goes along with him in a long drive to Mexico to rescue his family.
In the motel, Lucia and Alicia are trapped when the owner, Santiago tipped the hoodlums of their whereabouts. Again, Lucia manages to wipe them all off. She drives the car with her daughter, an old woman and a young woman with a sick infant.
After series of gunshots and bombings along the way, Carlos is reunited with his family. They cross the border with the help of Steve since they all don't have their passports on hand. Moreover, it is illegal for the women and baby to cross the USA without documents. Everything paid off at the end. Cardona is caught while in La Carreta, trying to camouflage with his disguise to no avail.
The story ended with Alicia's acceptance of the truth that no matter how hard life was in Cuba for those who suffered, the beauty of the island would never cease to exist in the hearts of those who call it home no matter how far they are right now. In time, she will set foot on the mystic island of Cuba.