It's Raining Tonight
Where to buy It's Raining Tonight?
A love so true and strong never fails. It just keeps flaring no matter how painful and how much it costs just to be with the person. Witness how John and Vanessa fight for their interracial love affair in It's Raining Tonight, available at the following book stores:
Amazon
Barnes & Noble
Author House
Book Reviews
John Rusell, a renowned basketball superstar and Chemistry wizard in Lacey Township High School and Vanessa Foster, an African-American shooting guard and honor student of Barnegat Township High School fell in love with each other right from the moment they laid their eyes upon each other during a basketball meeting with the female team.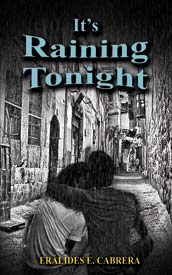 John's family faced a financial downfall when his father, Dave, who had worked for thirty years as a manager in Carousel Services was laid off due to economic crisis. Losing his job was a major blow to Dave who caved in a difficult predicament. No one had the slightest idea that Dave would easily give up and commit suicide.
With graduation coming up, John knew it would be impossible to get into college, considering their current situation. However, on his eighteenth birthday, which in fact he shares with Vanessa, after the match between top players of his school, he was offered a scholarship to Rutgers University in exchange for performing his best in basketball. Vanessa on the other hand also received a scholarship offer in the same university. It was a perfect setup for them to be always together, playing basketball and working their way to get a degree. John finally graduated in high school and made his mother so proud.
Joan Silber, John's mother took various cleaning jobs around Princeton areas where wealthiest families in the State live just to make ends meet. One day, John read a letter sent by the bank, informing about the foreclosure of their house due to a three-month deferred payment. Upon knowing this, he called up his sister for help, but she's apparently out for herself. As a result, he made up his mind and went to Carousel Services to pick up his father's things and also seek employment—a decision that would lose his scholarship to Rutgers University. With the responsibility of helping his mother in his mind, John decided to study college in Ocean County College in September and work his way through school part-time. Few days later, he was hired as a full-time driver. His abrupt decisions hurt Vanessa since it would mean not being frequently together like what they originally planned. She thought his plan of working is just temporary for summer. As a result, she also wanted to turn down her scholarship and study in the same school.
Joan upon knowing that his son was seriously dating a black girl found it unbearable. Even when their situation was quite similar when she turned back from her family and culture to marry a gentile man, she believed her son needs a better one. She predicted that their grandchildren if they end up together will suffer prejudices for having mixed races. However, John was firm that no matter what happens, he loved Vanessa so much; and there's no way they will be inseparable even with his mom's apparent disapproval. As John and Vanessa's relationship got stronger, so as the opposition problems from their respective parents. When the moment Tom Foster, Vanessa's father knew about her plans from her mother, Evelyn, he took precautionary measures by having her grounded, confiscating her phone and car keys and controlling her to push through her dream of playing and studying in Rutgers University. He found it absurd for Vanessa to turn down such a great opportunity just for the love of a white guy.
With the thought of not seeing her beloved John, Vanessa, hurt and broken, slit the razor on her wrist. Luckily, Evelyn was awaken when she heard the sound of something that had fallen. Vanessa was rushed to the hospital. John was the only one she needed to recover. The story ended with the couple happily playing basketball...as husband and wife with a one-and-a-half- month baby on Vanessa's womb.