Brandy
One day on their way home, Carolyn spotted a poor dog, limping across the highway and insisted to her parents to carry it to the hospital for immediate medication. They ended up adopting the dog after her constant pleas. Her parents, Fred and Stacey Collides took care of the dog which she named Brandy after a song while she's away during weekdays working as a waitress.
Where to buy Brandy?
Brandy is available at the following book stores:
Amazon
Barnes & Noble
Author House
Book Reviews
While in a night club in Sayreville with her friend, Kathy, Carolyn met a young man named Joe whom she felt attracted the very first time she saw him. It was a usual boy-meets-girl love affair. After constant dates, Carolyn moved to Joe's apartment.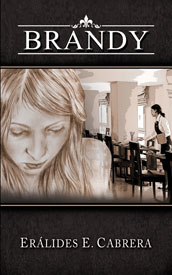 Spending all days and nights with him, Carolyn couldn't contain her happiness until one day that Joe was back from work. She told him about what's bothering her—delayed period. Yet he remained passive, pretending nothing happened. That same night, she left his apartment and never looked back. She never heard of any word from him. It was two months after that her father knew about her situation. Her mother practically kept the secret and took things lightly right from the start. Fortunately, her father accepted her situation warmly. Carolyn already planned of naming the baby after him, making him even pleased.
Contrary to what they expected, Carolyn gave birth to a healthy and beautiful baby girl. Again, she named her Brandy, after the song she loves and not from her pet dog. Brandy basically grew up with her dog and under the care of her grandparents since her mother has continued working in the restaurant in the Central Jersey and only went home during weekends. Carolyn eventually had developed a relationship with a divorced man and moved into his home in East Brunswick. That made parenting even harder for her and left the responsibility to Fred and Stacey.
After the death of Brandy's grandfather, Fred, Carolyn attempted to get back Brandy from Stacey, but she was unsuccessful due to the fact that the 10-year old girl and old woman were inseparable and had developed a deep unbreakable bond throughout the years. Later on, her faithful dog succumbed to death after years of serving its master. Years passed and Brandy finally graduated in high school. Brandy, determined to push through college in Temple University, suggested incessantly to her grandmother that they move to Philadelphia. As a result, their house in Belvidere was sold that made Carolyn and her brother Pete delighted. However, Stacey decided to buy a condominium unit as a condition before giving the siblings' share of the net proceeds. Without Brandy's knowledge, Stacey added her name in the deed of the property.
Brandy, who grew up with an impeccable beauty, received unwanted attentions whenever she went. Luckily, she met two police officers namely Bruce and Joe that offered protection voluntarily.
On her desire to help her grandmother pay for her education, she applied and got hired to be a barmaid in McGillin's Olde Ale House, a historical tavern in town.
Once again, Bruce together with his partner Joe saved Brandy from the vagrants near the university when they tried to block her way and even gave her lift.
Concerned about her grandmother's deteriorating health, Brandy set her up for an appointment to a bone specialist with the help of her friend, Miriam.
One night in McGillin's, Bruce surprised Brandy with his gift—a brown puppy. Ironically, she named it Brandy, after her deceased dog. Little did she know that his sweet gesture meant more than just what she thought—a sign of getting the friendship one level higher.
On the same night, Stacey, weak due to her old years and scared of something, lovingly requested to sleep with Brandy. Brandy gave in to her sweet request yet her heart was shattered when she woke up in the morning and found out that her grandmother left her peacefully.
After the solemn services in the local funeral home, Carolyn and Pete tackled about selling the condominium that made Brandy's rage in fury since her grandma barely made it to her grave. In her fury, she left the condominium and took her things and her puppy with her. She risked getting a ride and headed north on Route 30 after calling Miriam to ask for a place to stay for the night. Miriam picked her up with her dad just off the bridge.
As a result of the mishaps, Brandy transferred to a studio owned by her co-worker, Rose and loved the privacy that she experienced though she missed her grandma so much.
On a busy Sunday evening, she served and talked with a bunch of Navy men whom she felt irritated at first after whistling at her back. One among the officers whose aircraft temporarily docked there for several days captured her interest and never left her memory, Allan Whitman.
Her heart leaped in joy when the Navy officers went back. Allan and Brandy got to know each other more while Bruce observed them from a distance with jealousy piling up.
One day, Carolyn called Brandy up to set up for a meeting. Brandy felt even madder when she knew her mother was just up for the condominium, which was named after her. She waived her right for the property and later signed the papers to transfer it to her mom and uncle.
Allan asked Brandy to be her date in the Christmas party arranged for the family of Navy officers and gave her a beautiful silver necklace with her name engraved on the pendant.
Few days after Christmas, the Navy men with Allan went to McGillin's to see Brandy. Unlike before, they passed having no alcohol for the night. Allan bid goodbye to Brandy because their carrier is deploying that night. Brandy was left with heavy heart. On the same night, the Navy officers encountered a dilemma that would threaten their career.
Brandy felt scared when she saw how Bruce would follow her whenever she went, even spending the night in his patrol car near her building and knocking on her door.
On the New Year's evening while in the house of Miriam, Brandy received an overseas call from an unexpected person—Allan. He told her that a cop stopped them while they were on their way and gave Lieutenant Bradley, who was the driver, tickets for driving while intoxicated and himself for not wearing seatbelt and for not following the officer's directive, which are all untrue. He asked her to go to the violations bureau and pay for those tickets.
A night before New Year, Brandy became more restless and scared when she saw that her puppy's cradle was in disarray purposely. On the following morning, she didn't contain herself and confronted Bruce, who was in his patrol car parked in the curb. As soon as she received the pages Allan faxed to her, she memorized the badge number printed on it, which she would find out to whom it belongs. In her surprise, she confirmed it belonged to Bruce Wein when he knocked on her door and made up a story that there was a report of breaking into her place.
Allan called her up late that night to tell her not to pay for the summons since his captain wanted them to contest them. Things became creepier when Brandy saw Bruce seated on her couch without any sign of tampering. She decided to go to the Traffic Court to verify the police department that issued the tickets but it didn't turn favorably.
Brandy asked for Rose's help to talk her husband, Jim, a retired policeman. Jim gave her a new set of keys for her apartment. Little did she know that she can't trust him either.
Unfortunately, her complaint for Bruce Wein in a police station was in vain. The day came that the Navy officers along with their Navy lawyers went to court to defend the case. With the legal prowess of Commander Stockton and Lieutenant Rose, they won the case.
After their merrymaking for the success they got, the officers were assured that the charges won't affect on their grading. Allan went to Brandy's apartment, unaware of the danger he would be facing.
The two were on a romantic scene when an intruder silently made his way in. He shot his gun on the middle part of Brandy, the puppy. Allan courageously punched him yet he put his life in great danger when the intruder, Bruce Wein shot the gun straight on his forehead.
Commander Stockton arranged to help Brandy by volunteering herself to be her lawyer, which is unlikely to happen for a U.S. navy to represent a civilian. Bruce Wein was sentenced to life. After the turmoil had passed, Brandy was presented an opportunity to be part of the program for nurses run by the Navy—an opportunity that Allan mentioned to her before.
The novel ended when Brandy finally graduated with a Bachelors of Science degree and finished her navy officer's program as a platoon leader—owing all her achievements to her shady past.