Gloria's Cradle
One day on their way home, Carolyn spotted a poor dog, limping across the highway and insisted to her parents to carry it to the hospital for immediate medication. They ended up adopting the dog after her constant pleas. Her parents, Fred and Stacey Collides took care of the dog which she named Brandy after a song while she's away during weekdays working as a waitress.
Where to buy Gloria's Cradle?
Gloria's Cradle is available at the following book stores:
Amazon
Barnes & Noble
Author House
Book Reviews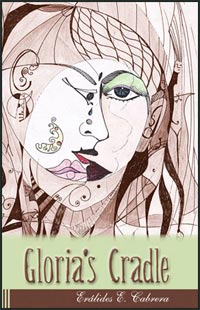 Ever since Vera Sawdy was little, she was extremely beaten by her delinquent father for no apparent reason. No matter what she did, he would find an excuse to hurt her emotionally, mentally and worse physically. In her young mind, anger and hatred have accumulated towards her father throughout the years of agony. Her nightmare even worsened when she was on her teenage years. Her father wasn't just satisfied with the afflictions he cast on her, instead even sexually abused her when her mother was around who found pleasure seeing her unfortunate state. She only found refuge in a hiding place she created underneath the house where she kept her cookie bottles collection with money she continuously saved. Her older brother, Tom, who insisted to learn martial arts even if their parents ridiculed him, left their home when he was sent away by their father. They never heard of him again.
Vera planned out well every detail, taking all the punishments and abuses until the day finally came for her to be free. At the age of fourteen, she ran away from Waldo, Florida to New York City. Pretending she was already of legal age, she began her new life under the fake name of Gloria Sanders, the first name of her mother and a painful reminder of her past. She encountered more challenges along the way that made her hard to trust nobody except herself. Smart and a fast-learner, she observed how cocaine and weed were circulated around her neighborhood and applied what she learned in the clothing district. But because she won't give in to Joe Monterino's kickback from her, her roommate, Peggy was killed as a warning for her. She left New York for good.
At present, Gloria Sanders operates a one-woman dealing with various suppliers overseas of stolen credit cards, gold bars, and other high tech gadgets. She is doing fine living with her two daughters without asking for any support from their father, who left her after five years of being together. One day, she felt alarmed when someone broke into their house and didn't get any but a family photo. It only means one thing—her daughters' safety is at stake.
One of the many men she transacted with, Bob Finetti insisted to her to meet his boss, Anthony Losano. Persuasive and powerful, Tony made her sign a contract that will count her in his mob, supplying every good she has. However, she never really agreed on working with them exclusively. So, she continues to deal with other men with the help of Mike acting as a receiver of goods from the skipper.
Eventually, Gloria and Tony developed a mutual relationship that impaired Gloria's decisions. Later did she know that Tony would leave her hanging, for he is just after the information only she knows about. In a transaction with Raven, a low time criminal who dispatches drugs in Baltimore, she was supposed to hand them over the bars of gold that she didn't sell to Bob Finetti for the reason that they want to pay half the price. However, her plan got busted when Mike set her up with Raven and his men. Bob bought Mike off to reach her connections. She was mistaken to trust Mike. It was all plotted. However, Mike doesn't know anything so Raven and his men were after her. Captured also was an old man in his fifties who was unfortunately mistaken as the skipper. Just as when she would be cut by the power sew, the mistaken stripper knocked off all the men with his karate stunts. Bewildered of what's happening, Gloria found out that the mysterious hero is her long lost brother, Tom Sowdy who happened to track her whereabouts. Worried by her daughters' safety, Gloria felt relieved when she knew a friend of Tom looked after them while she was away.
In Sidney, Australia, Tom and Gloria, now having the names Jim and Rose Hagerty respectively, found a place to start anew with the two girls. Away from the danger of the shady past they once had, they continue to live peacefully.